NCR Autocross
Autocross Chair

Autocross Chair
& Chief Instructor
Registrar
Joe
Ollie
Jeremy

Select the images above for contact information
2016 Autocross Season Begins… a sure sign of Spring!
Details

Hits: 436

436
Every year between April and May the NCR autocross community comes together to celebrate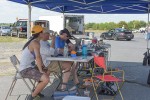 spring's arrival with new and renewed competition, rivalries and friendships at Moore Army Airfield in Ayer, Massachusetts, home of NCR autocross. This year's six event series begins Sunday, May 15 and ends with the season finale on Saturday, October 8.
Every season brings new challenges in the form of new cars, changes in rules and classes, and new competitors. This season many competitors are curious to see how the new GT4 will perform and how classes will change to accommodate the newest line of Porsches. This article is intended to provide NCR members with a basic understanding of NCR's autocross series and hopefully to attract new participants who may be looking for an opportunity to drive their Porsche in a manner for which it is intended.